It's been a long time since the last post... I have been knitting non stop as usual and just started to go back to my sewing machine recently. Not for apparels though, but to sew knitting project bags. LOL!
Below is a quick sum up of all my knitting FOs during my MIA period:
NO 1: Free Rapunzel Hat
Ravelry notes here
. Actually I am not really a note taker. So I apologise for the empty notes section. But you can find more pictures there. I dun wan to bombard this post with too many photos of each project.
The braids actually is the same length dun let this photo fool u. I think I worn it a bit slanted. I love this hat! It is really warm and cozy and the earflaps were perfect for protecting my ears while we went for a snow play trip at Flagstaff in January.
NO 2: My Central Park Hoodie
I used Lionbrand wool ease in chocolate color and my super addi 5mm circular needles. I got the addi turbo circular needle in a yarn shop in Flagstaff and was shocked when I saw the price tag of $16+USD just for one circular. I was too embarrassed to pass it back to the staff so I just swiped my card for it. I though clover needles are already the high ends and never knew that there are even more higher priced needles out there. What a country bum I am. But after using it for the first, I swear that the money is really worth it! The cable is very flexible, ultra smooth joints and smooth needles. LOVE it!!!.
I also went youtube and watched a video tutorial on how to cable without using cable needle. It's really simple and the cabling went faster without the constant reaching out for the cable needle.
I also choose to add 2 crochet loops to the bust front and sew on 2 togas for closure.
NO 3: Hubby Valentine Day Socks
Ravelry Notes here.
My first trial in knitting socks. Why the boring color choice? Cos it is for my boring husband work socks. LOL! He is in the military, so only black is allowed. The foot length is a bit short due to my laziness to measure his foot properly beforehand. It still fits him but a bit snug. I used
Premier Yarns Serenity Sock Weight Solids
and is my first time knitting with merino wool. It is so soft and squishy and definitely a delight to knit with. It's the experience with this yarn that started the impulses purchase of merino wool from yarn.com and knitpicks.com.
I will be knitting up more socks for my hubby since socks are the only handmade stuff that he is willing to wear.
NO 4: Allen Abate Sweater
A simple sweater for my little boys using yarns from my gigantic stash. I just want to find an excuse to knit with my addi turbo circulars. A very fast and mindless knit for the instant gratification in between big projects I had on hand. I also have adult version of this sweater in my library but haven found the perfect yarn for it yet.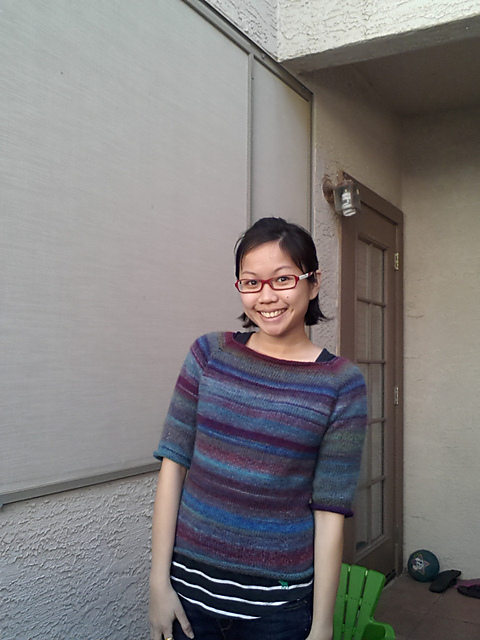 NO 5: Equinox Raglan
This pattern is from the book I brought for the CPH. I read reviews on the Lion brand amazing yarns and wanted to try knitting with them. The colors are awesome! I used the glacier colorway but I only purchased 4 skeins. Hoping that I can squeezed out my size with them. I used up every bit of my yarn and the top turns up to be ok. But if the hem rolled up too much, it will seem a bit too short. So I got to keep pulling and tugging at the hem. I am thinking of simple crochet along the hemlines with a contrasting yarn to stabilize the hemline. What do u think?
Okok, I think I will stop here. I still got a shawl, cowl, socks and vest finished but unblogged. Will save it for the next post then.
Ohya for the sewing portion, I have made a few project bags for myself and my etsy shop. The fabrics are my loveliest collection of quilting cotton in my stash that I couldn't bear to cut into.
I brought them years back from SPOTLIGHT in Singapore. They are a super cute birdy quilt cotton collection. I only had a yarn of it but sufficient to make 1 for myself and 1 for the shop in each design.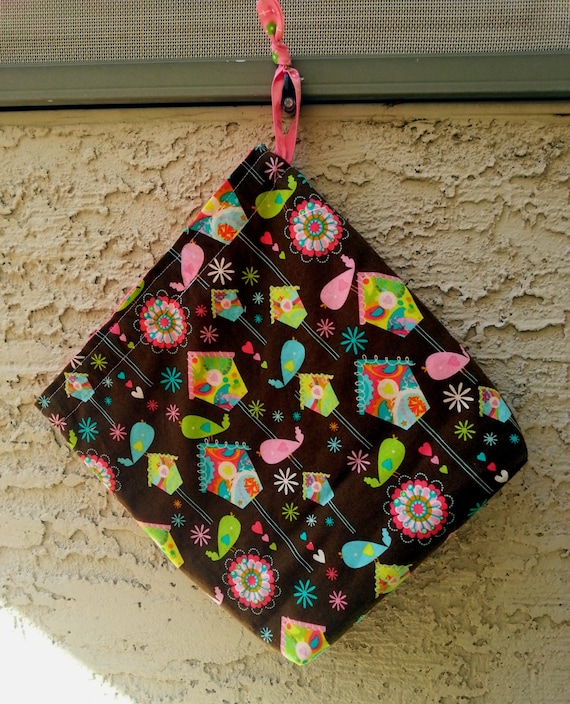 They are fully lined drawstring project bags with inner pocket slots x2.
Simple and cute designs. You can find them here:
I am still working on more project bags as well. Stay tuned for them!
Meanwhile my active WIPS:
A sock
A crochet blanket
And I am thinking of casting on another shawl... Oophs... So sorry hands, you got to continue the workouts I planned for you...
Thanks for stopping by:
Cya!
XOXO
Ashley