Hi everyone, sorry for the late update. I have been busy embroidering my new skirt for the
Skirt Week 2013.
I saw this beautiful skirt tutorial on Stitch Summer 2013, and love it at first sight. I used some navy broad cloth from fabric.com and the embroidery threads are from my huge collection of DMC floss when I had the cross stitch frenzy many years back.
Funny pose... Pardon my messy hair as always. I am wearing it with my
megaphones tee
.
Skirt Pattern: Cut according to my own measurements using the magazine tutorial. But I changed it a bit to add inseam pockets at the sides. For a mummy with 2 boys, pockets are really important and handy as our hands are always full.
Materials used: Navy broadcloth from fabric.com around 1.5yards. DMC floss in blue, green, yellow and slight darker blue. 9" zipper. (I threw up a fuss because of the zipper. Long story ahead)
Duration to finish: The skirt took me 1 hr to churn out but the embroidery... many long nights... Its my first time embroidering and I really like how it turns out, all my hard work is worthy.
No make up today cos I stayed up till 3am last night to finish the embroidery in time for skirt week.
Here comes the stupid zipper part... The pattern calls for invisible zipper closure, and I love inserting invisible zippers all along but why did I ended up using a normal zipper? It's because the 2 times of perfect invisible zippers insertion gone haywire when I tried to wear the skirt! The first time, the zipper couldn't zip up properly and ended up broken when I turn violent... OOPHS... Then I removed the zipper and inserted the second invisible zipper. This time I can zip up the skirt but the zipper split open. What the hell!!!!!!!!!!!! I almost pulled out my hair when that happen! Blame it on me, for using cheapo zipper from Daiso. (a $2 SGD shop in SG. $2 for 4 invisible zippers. Cheap right? but damn lousy quality) So I removed the zipper again, cough... by violenting pulling the zipper out... Lucky my skirt survived the shock. LOL! And I used this standard zipper from Coats and Clark. Finally! I made it in time for the skirt week!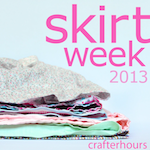 U can find my entry above...
Thanks for reading:)
XOXO Ashley